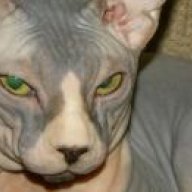 Joined

Feb 10, 2010
Messages

51
Points

19
I wasen't quite sure where to post this, but I have a question.
Baldwin has been especially clumsy lately. He is seriously falling over himself. The only thing I can think of is a couple things. Yesterday I gave him a bath, clipped nails and cleaned ears. I don't think it was the bath that messed him up, but I did clip 2 nails a bit short on his back foot
but I don't think that would cause him to trip over himself. He is using that foot just fine and bearing weight on it. The other thing it might be is his ears. You think his equilibirum is off from me cleaning his ears?? Will is resolve itself? Or do you think it's something else?
Thanks!
Ohh, here's some pics of my handsome boy!
Ready to go back in! lol
He just wanted to cuddle and eat my fingers!