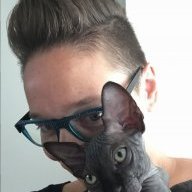 Joined

Jul 27, 2015
Messages

229
Points

71
So - I've had Hendrix for almost 2 weeks now, and I must admit that I think his poop smells pretty bad. Worse than other cats. It's not runny at all, so let me stress that I dont suspect that anything is wrong. But I was thinking that maybe I could feed him something better than standard overly processed dry and wet food. Im using Royal Canin right now, as this was what the breeder fed him.
The first week he didn't get any wet food (after advice from the breeder to prevent diarrhea when combining new home with wet food). And is it just my imagination or did maybe his poop smell better/less bad before the wet food? Im not sure. But either way - right now it smells pretty awfull when he runs by with poop foot
. And even though thats a great way to discover the poop-bodypart situation, I still think it would be nice if the odeur was a bit less overwhelming. And I can't rule out that Im being a bit sensitive by the way - so maybe I could work on that as well
There's a part of me that thinks that this smell can't be a good sign. And with the weird stuff the put into processed cat food, maybe its not that healthy in the long run. Thats why I started thinking about the raw diet.
I would do a lot of research first (and of course read the pdf in here with raw cat food information!), and ask my vet what they think. But even if I would like to feed raw I dont have sufficient freezing capacity to do it in a good way (make it myself that is). We have the smallest freezer in the world, and no space for another freezer since we live in a small apartment. We are currently looking for a bigger place, but that could take up to a year, so I can't wait for that.
And maybe I dont have to. I read about the raw alternatives like Ziwipeak and Orijen. But I can't find any information on what effect it has on the stool. So Larians - you know so much - do you know this? And would these alternatives be considered better than normal dry/wet food? But not as good as real raw I guess? (for people who think raw is the best that is).
Any pros and cons I should know about?
And is it needed to supplement these foods? Is looks like they at least have some supplements in them, but I didn't go into that in detail.
Sorry about the lounge post!