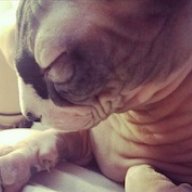 Senior Lairian
Senior Lairian
Joined

Mar 24, 2014
Messages

311
Points

108
Hello. So Buster has always had very good skin and never experienced any allergies. Earlier this month, we brought Buster to the vet because he had bad breath. Two days later, I noticed this rash on his body:
I was concerned it may have been because I was using the heated blanket that night (with me in it, of course) so I put a cold compress on it and figured it would heal. But then decided to go to the vet a few days later when it continued to spread around his body and looked like this:
At this point, I thought it was suspicious that the rash appeared right after I had taken him to the vet for his teeth because he's never had any skin problems (or health problems, really) before. However, the vet insisted it was an allergic reaction. He thought to pollen, which was possible because we let Buster into the Catio (a screened-in area outside) when it's warm. He loves it in there. So the vet gave him a steroid shot and within a couple of days Buster's rash had gone away. Within the next couple of weeks, we tried seeing if we could let him into the Catio again after giving it a good cleaning because it's his favorite place to go. Eventually, his rash re-appeared (attached is a photo):
So of course I kept him away from the Catio, inside at all times. But after a week of having no outdoor time, the rash didn't go away (probably got worse even) so I took him to a different vet (at a sister location) and she said that because the steroid shot made the rash go away, it is allergies. She explained that allergies respond very well to steroids whereas infectious diseases would get worse. The vet gave me wipes called Mal-A-Ket because I explained that I wanted an alternate solution from continuously giving him steroids whenever it comes back. We've been using those wipes for a few days and his rash has spread more around his body and now looks like little pin-point dots all over (pics):
It's hard to see in the photos how widespread it is but it looks awful in person. Also, someone has been vomiting a lot. We have three cats so I cannot currently say for sure that Buster is the one vomiting as I have not seen it happen but will try my best to find out. I stopped the wipes in case him licking it off has made him vomit. The vet gave us oral steroids to give him in case the wipes don't help so I gave him a dose today.
I know it can't be pollen because Buster hasn't been out in the Catio for a long time and it continues to get worse. I haven't bathed him all month (just wiping with warm water on a cloth to clean him) because I don't want any shampoos to irritate his skin. So I also know it is not his shampoo.
For those of you who have had cats with allergies, does this look like an allergic reaction? He nibbles and licks the rash but I haven't seen him scratch. I'm so concerned about him, I'm worried something is very wrong. And if it is an allergic reaction, I don't know how to figure out what is causing it. I'm going to change his food and/or the detergent. The food and detergent in our house hasn't been changed at all but the vet said the ingredients may have changed. I know this post is long but I really appreciate anyone who has read it and any help I can get. I will take him back to the vet as soon as I can.