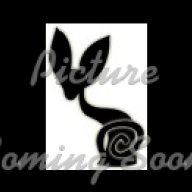 V.I.P Lairian
V.I.P Lairian
Joined

Dec 2, 2009
Messages

1,753
Points

0
The lady that bred them emailed me today. She said she had thought that breeding her part peterbald girls to DSH males would produce a low allergy kitten that would "sell like hotcakes" turns out people think they have mange and would rather have a nice fluffy kitten. she did not sell even one! She took them to a flea market this past weekend and gave away all but 2 of them. She still had my email from when I was considering getting one or two, and wanted to see if I want the last two, a tortie girl and an orange girl

She said if not she will take them to the shelter (which I know is already over run with kittens this time of year)
I am torn for a couple of reasons.
1. I think it would be nice for Gummi to have kids her own age to play with
2. I really do intend to try to buy a boy sphynx next year, and that's a lot of cats!
3. I just let Gummi out of quarantine, and got my bathroom back, lol.
Since I would not be paying for them, it would not be contributing to her kitty mill business, which apparently failed miserably!
I am leaning toward getting them, but really wanted to know what you guys would do? Sometimes an outside perspective helps and you guys always have good advice.:Laugh: