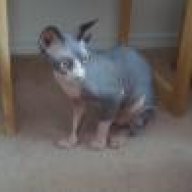 V.I.P Lairian
V.I.P Lairian
Joined

Jun 14, 2009
Messages

4,564
Points

0

The black sphynx that I love that was Cleos competition is HCM Pos and has 5 years to live at the most.
He is 2 months younger then Cleo.
Remember that show that Cleo got sick at last Oct?
He got sick at the same show but never got better.
My friend suspected heart problems last jan and had him tested last week and he is pos.
The b&&ch breeder does not even care.
She wants him to grand anyway.
This same breeder tried to sell me a sphynx last summer but I backed out and got Wrinkles instead because she did not scan and said bs I did not like.
My friend had not told her daughter he was given 5 years to live.
I tried to cry at the show.