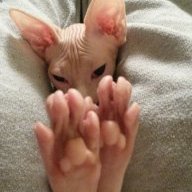 Senior Lairian
Senior Lairian
Joined

Dec 21, 2016
Messages

674
Points

138
It's been a little while since I checked in here and I thought I'd update y'all on my sphynx life. Let's see... 1. My lovely Posh had her first HCM scan and it came back with no problems! I think I hear a hallelujah chorus.
2. I've had my little sphynx boy Dashiell (named after author Dashiell Hammett, of course!) for about two weeks now and he's doing great! He and Posh LoVe each other
3. I'm hooked on reading cozy cat mysteries (I can't believe there's such a specific genre out there but there is!)
4. I've taken up quilting. My sphynx babies are not good at quilting. At. All. But there's certainly a cat quilt in my future.
5. I got a raise at my job
Of course it just means my nakeds get spoiled more
6. I've passed the first round of tests for my teaching certification (because once you get a raise it's time to switch careers, right?)
7. My very good friends opened a small fiber mill and are excited for me to create a line of organic/natural fiber based cat toys, beds, clothes and such and I'm excited too!
So, this is all good news and I'm hoping you'll share some good news too