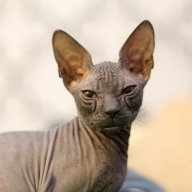 V.I.P Lairian
V.I.P Lairian
Joined

Mar 23, 2013
Messages

1,740
Points

368
I wanted to share this as I have seen similar threads on here before....

After Gus came home he started getting black speckles on his back and his belly which spread. I spoke to 3 separate vets who told me it wasn't yeast or a skin condition because it wasn't red or itchy and it was just his pigmentation. They refused to do a skin scraping to check.

A friend recommended the medicated shampoo Malaseb, and after 2 months of applying it for 10 minutes during a bath twice a week, well... see for yourself.




If you have a black sphynx with these markings to recommend trying it out. Gus's skin has never been clearer.

(FYI: This is a medicated shampoo and not suitable for regular use on cats without skin issues)

Hope this helps members in a similar boat (y)