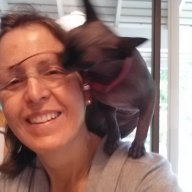 Senior Lairian
Senior Lairian
Joined

Aug 17, 2013
Messages

397
Points

133
My two boy Sphynx have chronic diarrhea. Monday's had it since birth and Mortimer developed his when I (slowly) tried a new kibble even when we went back to the old kibble. I have tried everything: Multiple medical tests, multiple food trials, pumpkin, fiber, etc. The only thing that moderately controls it is a complete raw diet. Even with the raw diet though oftentimes they still have very soft poop. The last two weeks I've been using a "syrup" of Slippery Elm Bark and they have had their first real firm poops and it's been firm for the whole two weeks I've been using the Slippery Elm Bark. I use the recipe for the Slippery Elm Syrup at the bottom of this article:
http://www.littlebigcat.com/health/slippery-elm/
I highly recommend it, it is working wonders for Monday & Mort and they must like how it tastes, they gobble it down mixed in with their raw diet.