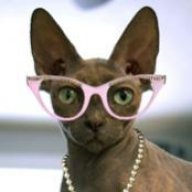 Senior Lairian
Senior Lairian
Joined

Aug 28, 2012
Messages

814
Points

168
I am by no means an expert on anything but I do find genetics very interesting and have done a ton of research on sphynx colors and patterns. I thought it might be helpful to have a thread where people can ask their color questions and we can try to figure out the answers as a group. Hopefully I've put it in the right section. I'll start us off by posting some of the basic questions that come up a lot and we can add to it.
What is the difference between Point and Mink?
Both are called "thermal" because they are born pale and their color develops on the cooler parts of their bodies as they grow.
Pointed cats have blue eyes. They have a tendency to have more contrast between body and extremity colors than Mink cats. The Point gene in Sphynx is the same as in Siamese.
This is a Seal Point with White
Same Seal Point as a kitten -
Mink cats have aqua eyes. They have a tendency to have less contrast aka more similar body and extremity colors than Pointed cats. The Mink genes in Sphynx are the same as in Tonkinese (which is one Burmese [amber eye] gene and one Siamese [blue eye] gene present at the same time)
This is a Seal (aka Natural) Mink with White
Is my cat blue?
Blue cats are basically black cats with an extra gene that makes them dilute. Their nose leather and paw pads will be steely blue, not black. Telling them apart can take some practice since most black sphynx don't really look dark black, they look more gray. Blue cats usually have mint green eyes unless they are Blue Point or Blue Mink.
I don't have a solid so here is a Blue Cream (which is the dilute version of a black and orange Tortie) she is a darker example of a Blue Cream.