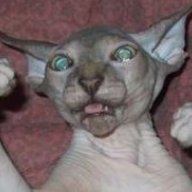 V.I.P Lairian
V.I.P Lairian
Joined

Feb 26, 2009
Messages

1,467
Points

188
I was just watching the movie Dune from 1984. Some of the older folk may remember it. Very unusual and strange space epic. Anyway, I was surprised when I saw Sting (The Police Sting) carrying an odd eyed sphynx in a cage.
So that got me thinking. We are probably all familiar with Mr. Bigglesworth
from Austin Powers but are there any others?
Screenshot from the movie
With Sting. He looks young. He's an old man now. Still makes good music though.
Actually on closer inspection that may be one of those Rex cats. Eh, I'm not an expert but it looks like a sphynx.