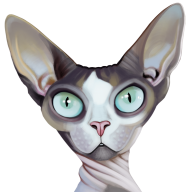 Administrator
Staff member
Joined

Jan 13, 2009
Messages

23,727
Points

643
This will be a new weekly animal trivia contest! Each week we will post a trivia question about an animal or animals in films etc. and the first one to respond with the correct answer wins! The winner will recieve 500 Sphynx bucks from the Sphynx lounge and the "Cup of Trivia Award". Which can be seen here
http://www.sphynxlair.com/xperience.php?go=awards
Rules:
1.Each user can only post one answer.
2.If you guess, please guess all of the required answers, not just one or two.
3.No editing your answer.
4.You must answer all questions correctly if there are more then one to win.


The contest will be held every Tueday night at 8
0 pm.
Good Luck!
We will try our first one this morning.
Last edited: