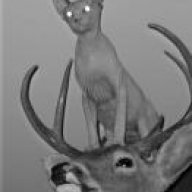 Senior Lairian
Senior Lairian
Joined

Jul 8, 2009
Messages

375
Points

88
I am proud and just a little over joyed and excited to annouce that after much talking and meeting it seems Harley and Sambo will have some new play mates come Sunday.. I started about a month ago talking to a lady who had three lovely Sphynx cats that she was looking to rehome...After having many people to talk to and chose from, she called Tues to arrage for US!!!

to be their new home. I am so excited Two are Black (one with green eyes and one with blue eyes.) there is also a Red one with Green eyes. I am over joyed with the prospect of adding three more SPHYNX to our home...

Wonder what the Negibors will think of my Nudiest cat colony here is small town Louisiana..We might make the local gosip wire ....