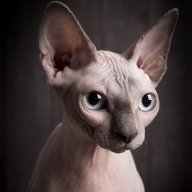 V.I.P Lairian
V.I.P Lairian
Joined

Dec 8, 2016
Messages

1,718
Points

218
So, as some of you know, Astrid refuses to eat wet food. BUT she is eating the Chicken freeze dried raw stuff rehydrated!!! I think it's because it doesn't smell nasty; I pretty much had to stick my nose into her bowl to smell it. It does not smell like wet food at all!
So hopefully she keeps eating it and I can use it as a way to introduce actual raw/wet food. Stella makes an actual raw food so might have to try that! But this works for now
It looks like raw food once the water is added, well at least like the raw food I bought. It isn't a paste consistency like canned food.
Now to call the vet and figure out how much she can eat along with her kibble... stupid diet lol but she's getting her weight down!