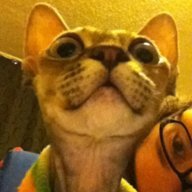 Senior Lairian
Senior Lairian
Joined

Jun 1, 2013
Messages

676
Points

153
For those who have been members for a while, you may remember my "Epic Saga of The Green (and white and reddish) Snotty Boogers"........... I FINALLY HAVE A SOLUTION!
To summarise
1. Gotcha day, since then she has been exhibiting these symptoms. Within he first week of having her I took her to the vet to have this looked at. Was given doxycycline at half dose because she was 4 months.
2. Doxycycline helped a little but not really. Took her back two weeks later, her dose was doubled and go for 4 weeks.
3. Didn't work so I took her back to the vet. We discussed getting her a scope under anesthetisc but I thought she was too young so I spent a good day trying to collect a good booger sample. Results were pasteurella bacteria. Got given 1 week of small dose of moxycilin, like penecillin, then at second week mark double dose for six weeks.
4. Six weeks later, still sick. Her boogers went clear about week 4 then came back to yellowish. Took back to vet to get scope surgery last week. She is 9 months old.
5. Scope results and biopsy, nothing exciting except really eroded nasal-pharangal membrane and same bacteria pasteurella.
6. Vet concluded possible chronic rhinitis and a management plan. Went back on moxycilin, no results.
Fast forward to April, last month. Steroid anti-inflammitary made it worse. Tried Baytril. Not work. I was so upset and frustrated. She was almost 1 yr old and still chronic boogers.
So desperate I decided to try some hokey-pokey homeopathy! Drops on back of neck twice a day, and magic!! Almost no boogers, and if I hear/see some, put more drops on. Magically makes her sneeze them out.
Sinus (polyps, aspergillus,cryptococcos,enterobacter) (AN027) Animal Prescriptions
Helps sinus infections, inflammations & discharges.
Help clear congestion from nasal passage, if chronic.
Support from fungal infection of Aspergillus & Cryptococcos
Enterobacter Cloacae and Nocardia Bacteria infections.
I cannot believe, that something so....simple helps. All the medications messed with her immunity and stomach. But this...wow. So now I have one HEALTHY and happy Cleopatra SoftPaws!