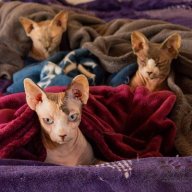 V.I.P Lairian
V.I.P Lairian
Joined

Aug 21, 2015
Messages

2,066
Points

338
7 days to go.
5 days until the horses move.
I'm *kinda* packed. (EEK!)
The girls are driving me bonkers, because it's nice weather and they want to sit outside.
However... I can't stuff things into boxes AND watch them at the same time, so they have to stay inside.
This is met with much caterwauling, escape attempts, and what have you.
The horses want out into the field sooooo bad, and now that bitchface is on vacation (HOORAY!), I'm allowing them out a few hours a day, at least. I'd love to leave them out, but their digestion needs to switch over first, which I couldn't do, because they dumped a harrow into that field. :/
I've put electric fence around it now, sod them. I am grazing those horses come hell or high water, because I don't want to deal with colic the moment they arrive in France and are put on grass!
Bitchface (sorry, that's what I call her now) owes me much money (€740), and didn't say goodbye at all.
So my bank account is cancelled because I am not paying rent for a month when I'm not here, and on top of it don't get my deposit, OR the money she owes me for horse feed and whatnot, back.
No fixing anything, no painting, nada.
If there were anything worth taking, I probably would, just to cover what she owes me. I swear, if there is room for the washing machine once everything is loaded... I'm taking it. I wish she'd leave the tackroom open, because I'd walk off with a saddle. She could have it back when she pays me the deposit. (Which will be never.)
Oz has the right idea.
The only rainbow I ever saw here -- and there is indeed Gold at the end of it lol.
(Sunset...turned him kinda golden, but who am I to quibble.)
No one ever said you'd find Chocolate at the end of a rainbow, but there it is.
Yep, that's really Stormy.
2 years and (almost) 3 months old now.
Jez is doing a doorframe inspection. Because I put boxes there so she can climb up easier.
Also sitting in plastic bags (which I roll glasses and stuff in) so I won't forget to pack her.
And checking to make sure I don't accidentally throw something out she might need. Like... Sausage wrappers, bread wrapper, and leftover catio mesh.