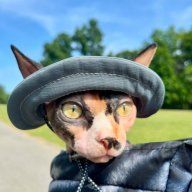 Joined

Jan 16, 2011
Messages

33,238
Points

673
When we had our last Zoom meeting in December I shared I was hoping to do more than just one meeting in 2023. So, I want to kick off the first Zoom meeting this year on Sunday March 26th at 3
0pm EST. Both moderators
@Sheldon13
and
@Toa and Ross
have confirmed they will be on the call as well.
All are welcome. Don't be shy…there are usually around 10 people or less that participate on the video chat. We take turns talking about life in general and newbies get to introduce themselves. Of course we all try to have our cats make a quick appearance if they are out and about. Unlike past calls I want to quickly cover at least one topic during the chat that can maybe help members. This upcoming call we will cover bathing tips for those who do bathe their babies. It's fun to make a stronger connection with members and give any extra support some might need through these video chat meetings.
All I need you to do is private message me if you want an invite and provide your personal email address so I can send you a Zoom invite a day or 2 before the meeting. I will not share this with anyone. For those not tech savvy, the invite will be a simple email sent by me with a link. You just click on the link at the scheduled time and it will bring you to the meeting. You then pick video option if it pops up and you are in...it's easy as that. The chat will be roughly 40 minutes. If you have any specific topics you want to discuss send that in your message to me as well.
We look forward to seeing you Lairians!