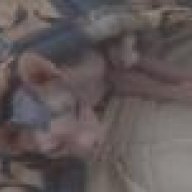 Senior Lairian
Senior Lairian
Joined

May 27, 2009
Messages

389
Points

58
I'm sorry I haven't been around much lately, so much going on!!!!!!!
First, my furry friend, the little dogs I share my life with
My old Afghan, Jamie, is once again doing well and back to her old tricks after a very scary couple of weeks where I was thought I was going to loose my old girl, but thankfully she's now rallied back around and is doing amazing again, considering she's now nearly 11, has been with me only just over 6 months, and was in such horrific condition when I got her, I feel blessed for every day I am blessed to share with this dignified and beautiful old girl!!!!!!!!!
Hannah's poor little nub of a tail is finally healing, I'd have never imagined having a tail removed could be so tramatic and so difficult to recover from! After 6 seperate surgeries to reclose it when stitches just wouldn't hold or the monkey would manage to get at them a couple time, I think we're FINALLY to the point her stitches are ready to come out for good - She goes back to the vet in the morning for a recheck and hopefully to get her stitches out, and we can let the tail finish healing by itself. Hannah will sure be happy to have her E-collar off! Although Ms Haley has sure been taking advantage of it LOL Hannah likes to bathe Haley when Haley tries to snuggle with her, which Haley doesn't appreciate, so with the E-collar on, Haley can finally get close enough to snuggle and Hannah can't reach her to bathe her LOL
My little Aiyana celebrated her 2nd birthday yesterday - After a very tough year last year, the fact she survived to see her 2nd birthday is a real miracle, there where many times I was sure I was going to loose her. She's fought a long hard mysterious illness that would cause her liver values to go crazy, and occasionally her kidney values as well. We never did find a rhyme, reason, or solution to this problem, but with careful attention to her diet, herbs, homeopathics, and bush flower essences, she is now thriving and is still the beautiful, dignified, and loving little girl who had my heart the moment she entered this world. As if the liver problems weren't bad enough, last year she also suffered a broken jaw when one of my other dogs knocked a baby gate over on top of her while I was at work, a ruptured saliva gland from the same accident, and was attacked by another dog in my own home (the dog managed to excape it's crate, climb a 4' tall baby gate, and get ahold of Aiyana while I was at church!) and she nearly lost her life again! Poor baby was just one tragidy after another all year last year, but that's all behind us again, you'd never be able to look at this beautiful baby and know what a sick little girl she'd been or how many times I'd almost lost her!
Then there's the terror of the household - Little Gemstone, the baby IG I rescued from the petstore. She's still here, and honestly, I think quite possibly here to stay! In 5 years now of Italian Greyhound rescue, I have yet to keep one of my foster IGs, but Gem may very well be the one to ruin that for me! She is an absolute monster, keeping her quiet is just not going to happen, and while she does still walk funny and her knees obviously hurt her at times, you'd never know it watching this little hellion tearing around the house like there's no tomorrow LOL Guess she feels like she has to make up for lost time! Her and Aiyana are becoming fast friends, quite an unlikely pair, my meak, mild little Aiyana who hates even leaving my bedroom without a dress or some sort of clothes on, and the crazy, rowdy little Gemstone who I can't keep a sweater on to save her life LOL She's a wild women, but I sure love her! She will be going back to the specialist soon for a re-evaluation of her fractured leg, which seems to be healing beautifully, as well as a good evaluation of her knees again now that she's grown some. She's still just a tiny thing, I need to weigh her, but I doubt she's more then 8 lbs max! Just a tiny little terror!!!
Then there's the kitty crew! My old Ragdoll, Sophie, has finally decided the Sphynx aren't so bad afterall. She still hates Osiris, but then that's Sophie, and 15 now, she's as hateful as the day she came here, although I must admit her attitude towards people has improved, she can still be a nasty old beast, and if anyone dare touch her but me, I make no promises as to her reaction - Most likely a bad bite will follow!
Oogie is him same old self, I just got a sinus flush done on him again, I'm sure that'll be something I continue to follow up with for the rest of his life, but he does very well most of the time. I'd love to strangle the breeder I got him from, the more I learn of her and more experience I have with cats she's bred, the more I'm seeing Oogie was not the only sick cat she had, I don't buy that she "rescued" him as I was originally told, he looks way to much like other cats she's bred in looks, markings, color - I know he's one of hers, I'm sure he was in a really bad home that caused some of his major problems, but I don't think she did much to help him, but that's all in his past now, he'll never know pain, neglect, or untreated sickness again!
Little Haley is back to her old self now that I got her re-spayed, she's healed up well and has had no lasting effects at all. I'm praying this is the end now and they managed to get all of the remaining ovary, but at the very least at least she now has her uterus removed so there's no possiblity at all that she'll ever become pregnant. If I have to deal with her coming into heat, or have to do some sort of treatment in the future I'll deal with that bridge when I get to it.
As for Mr Osiris, I can hardly believe it's been nearly 3 months now since I rescued him, and what a handsome devil he is! Other then the old honery Ragdoll, he's fit in very well with the entire houshold. He's definatly here to stay! He's such a big part of the family now, there's no way I could make myself give him up! Right now as I type this all 3 Sphynx are curled up with the 3 IGs, happy as clams, while old Jamie watches over them from the foot of my bed, ever the watch dog she is, very protective of "her babies", I couldn't have asked for a better dog or a better protector!!!
Anyway, that's what's going on with my crew