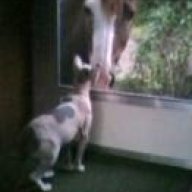 Senior Lairian
Senior Lairian
Joined

Aug 24, 2009
Messages

838
Points

0
I called the point of contact this morning and they are going to try to get him sprung today, but since they are closed we are not sure if they will let him out.

He is about 4 years old, and dropped off by his owners because they were moving (how stupid is that). She will keep him at her house until his ride can get him to my husband. Right now he is cold, they have tried to put sweaters on him, he shreds them, scared and will not eat. so we are hoping a home enviroment will help him out.

Ill update when she calls me back, She said she would called after they talked to the supervisor. So here is hoping.