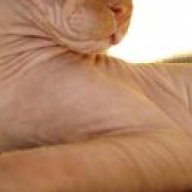 Joined

Apr 5, 2010
Messages

35
Points

24
(I'm sorry in advance if this has been asked a squillion times already...)
Just in terms of the general check-up...we'll be taking them for a quick check-up the second day we have them (in our contract with the breeder) and I was just wondering what to expect.
I've lived with/around many animals throughout my life, but I haven't dealt with many vet situations and I want to make sure we walk in prepared.
Any advice as to what to look for? Maybe any specific questions I should ask? I'm assuming it's just going to be a quick look over, check out their eyes/lungs/heart, etc. I'm just afraid all of a sudden they're going to say they have to do some standard test that costs a million dollars. Not that I'm not thrilled to spend money on these sweet things! Just don't want to be taken advantage of because we're walking in blind. Even more specifically, with this breed, is there anything specific I should have them double checking? Or paying special attention to, at least.
Any advice would be wonderful! Thanks in advance!!