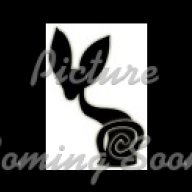 Joined

Apr 27, 2010
Messages

1,068
Points

0
We took Diego to get this lump checked that is on his hind leg. We visited the old vet at the new office. We walked in and there were Sphynx pictures all over the place. They put us in room number one and there were more Sphynx pictures and the 2010 HCM calendar on the wall. I was in heaven! Im so glad we made the switch.
She said the lump was probably from the vaccines that they gave him when I took him in 2 weeks ago. She told us to put warm compresses on it and if it doesnt go away, that she needs to cut it out

.
She did lots of research for me on his bladder stone issue and took all the bladder food info and put it together in a packet for me. It turns out that his food is the best out of all of them and that I need to keep him on it. She also admitted that she learned a lot of new things by doing the research. I love a vet that admits that they dont know everything.
Oh we got a microchip too!