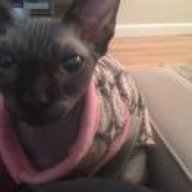 V.I.P Lairian
V.I.P Lairian
Joined

Jul 25, 2009
Messages

1,242
Points

158
Hello!

Long time no talk- I just posted in chit chat section- it's been far too long!

Anyway, since the weather is finally nice in the North East I've had the windows open. When Sophie gets next to the window she growls and sometimes hisses! I don't see anything out there so I assume its the noises she hears and she's protecting her territory.

My question is, do you think this is stressful to her? She just seems so upset by it but she doesn't move away from the window for some time. I'd hate to leave the house withe the windows open and her just get upset all day. Some windows that she cannot reach are fine but the ones that she can sit by are the ones I'm concerned over.

Thanks guys!