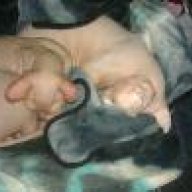 Senior Lairian
Senior Lairian
Joined

Sep 15, 2009
Messages

495
Points

123
Ok let me rephrase, I cannot afford to get evicted, there are not very many pet friendly landlords around here. Jack is going down to get his HCM screening this week. He has already had many tests done on his heart. I have spent well around 1k or more on him in the past year at the vet. I just picked up his records to take with me this afternoon. The only reason he hasn't had it sooner is because we did a test that showed he was not in active heart failure so they wanted to wait until he got rid of his URI and got to 1 year of age. I have to go out of STATE to get it done. We go down on Friday and I come back on Sunday. He also has had many xrays on his heart and it shows it to be enlarged and enlongated.

ETA: I am offended at the thought that I have ever let my pets suffer. I just spent around 600 on my dog to have surgery.
Ok that makes more sense, but I still do believe that there is no need to get a cat if you can not accept that they may scratch the house up - just my opinion, everyone has their own.