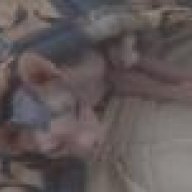 Senior Lairian
Senior Lairian
Joined

May 27, 2009
Messages

389
Points

58
Anyone sick of hearing of Gem yet? LOL I promise I'll get some new pictures of Oogie and Haley soon, as well as my soon to be new foster child - I'll be picking him up on Monday.

As for Gem, we're having some minor set backs, she's having tummy troubles, she has the WORST gas, and doesn't have a great appetite, but considering what she's been though lately, I'm not shocked! I've got her on a good pro-biotic and digestive enzymes to try to help with the yucky poop and bad gas, hopefully that'll do the trick! She's also peeing ALOT, like every 45 minutes to an hour all day long she's asking to go outside to pee, I'm not sure if it's behavioral or medical, I did have a urine sample tested, the said it wasn't an infection, but sent a urine sample to the lab just to make sure there's nothing to worry about. She'll have blood work re-done when I take her back to the vet who did her surgery in a week. She's also been coughing ever since I picked her up from the vet on Monday, at first I thought it was just irritation from the trach tube they use during surgery, but now I'm thinking there's more to it, as she's coughing up some phlem, and it's not getting any better. I called the vet that did her surgeries, and he said she should be ok since she's already on antibiotics, but after talking to both him and my local vet, we decided to put her on a cough medicine at night so she's not coughing when she should be sleeping.

But aside from those minor set backs, she's doing great! She's got more energy then ever - I'm having a real challenge keeping her quiet and off her leg! Haley is so funny with her, she follows Gem around, and bathes her whenever she gets a chance. Gem's not quite sure what she thinks of Haley, but Haley doesn't care, she's already decided Gem is her "kitten" LOL Despite the frequent urination, she has been the easiest puppy on house training I've had in a while - My own Uri was a really easy baby to potty train, but he did take SOME work, Gem has been so easy, she has only had 2 accidents since I brought her home, she always goes potty when I take her out, or if I'm not able to take her out right that second, she always uses a potty pad or a paper, she hasn't pottied on the floor ONCE! I'm very impressed, she's spoiling me!

Here's a couple new pictures I took, enjoy! Most of them are my little white girl, Aiyana, the most spoiled little IG princess in the world!