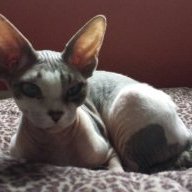 Joined

Apr 23, 2012
Messages

22,817
Points

653
heartbroken.. the angels called Yoda's name last night, sudden devastating. Yoda went to bed with me last night. In his usual passion to chirp and be tucked in his blankie on the pillow next to me. I kissed him goodnight, not knowing it would be our last. I woke this morning and he was gone... in the arms of the angels. Just yesterday he was eating, playing, getting his favorite spanking, helping me blow dry my hair... an inconsolable devastating loss. He got his angel wings on his own terms. He had a grade 3 heart murmur for years. no signs. I was preparing to celebrate his 11th birthday Sept 6 along with his littermate bonded brother Batman. The bridge angels had other plans for my kindest gentlest soul.
I adopted him and his littermate bonded brother Batman many years ago from a member. I am blessed with the honor to be their mom. Soo much love.
my heart aches beyond measure... just the other day I took a photo of Yoda in his favorite spot waking next to me. always by my side and forever and ever in my heart.
"till then" my Yoda Yodie... Rest in Love, you changed my life forever and ever. may you meet up with Yoda girl and my other furbabies together free . I will watch the night sky and hold you in my heart forever and ever my Love.